* No mileage charge in Mass. (Mileage outside of Mass. is .45 per mile.)
* 1 copy of each of my books donated for club raffles.
Each lecture includes a full table display of plants, accessories and decorative floral pieces related to the topic.
Do you have an idea for a class or lecture, but don't see it here? Give me a call. I'll be glad to develop one for you.

TO BOOK A CLASS OR LECTURE CALL BETSY AT 978-470-0911 OR EMAIL Betsy@betsywilliams.com
The Festive Table: Using Fruits, Vegetables, Herbs, Evergreens, and Berries for Holiday Decorating
Learn simple, effective ways to combine fresh fruits, vegetables and nuts from the supermarket, woody herbs from your garden and locally grown evergreens and berries to decorate your table for Thanksgiving and the Winter Holidays. The talk covers gathering, preparing and using seasonal plant material as well as mechanics, containers, and technique. Betsy will share ideas for seasonal centerpieces, guest favors and door decorations plus demonstrate how to create a fresh winter potpourri. 
Mrs. Thrift's Savory Herbal Kitchen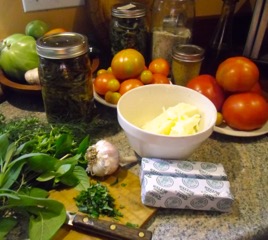 Mrs. Thrift loves to grow culinary herbs and she loves to cook! Learn to make her favorite herb-enhanced condiments, vinegars, mustards, butters, pestos, salts, and nuts, and how to use them to lift ordinary, everyday meals to a new taste level. Enjoy a sampling of herb butter, vinegars, mustard, nuts, pestos and salt at the end of the program.
Mrs. Thrift's Portable Herb Garden
Nothing makes home cooking taste better than fresh herbs! Betsy, Mrs. Thrift's close friend, demonstrates how to plant a portable herb garden in a 14″ container. With a little water and a little feeding, a pot of herbs will thrive on a sunny porch, deck or doorstep! Not enough sun? A potted herb garden can be moved from place to place to take full advantage of available sunlight. Classic culinary herbs will be discussed, as will growing from plants or seeds, how and when to water and feed and how to harvest and use. Tastings of herb butter, nuts and vinegars are included along with recipe sheets.
Buckets, Pots, and Windowboxes: Gardening in Small Spaces
Flowers, herbs, tomatoes, greens and many other vegetables thrive in small pots and windowboxes. Learn how to select a garden location, prepare the soil and decide between seeds and plants. we'll discuss which annuals, biennials, and perennials thrive in containers as well as when to plant, how to feed, and watering and harvesting techniques.
Living with Herbs
Herbs play many roles in our lives. They flavor our food and drink, are used in medicines, enhance body products, flourish in our landscape and deepen the meanings of our ceremonies. They appear in our myths, legends and fairy tales. In the garden, plain green herbs are often left on the sidelines while flashier plants strut their seasonal stuff. But some of those flashy plants are herbs also! What's in your garden, medicine chest, cupboard and bathroom? Much of the story of humankind is held in the fragrant green leaves of everyday herbs. Learn about this fascinating family of plants that weave through human history as well as daily life.
Who's that Living in my Garden? Leprechauns, Faeries and Sprites, Oh My!! 
Do foxgloves and thyme, cowslips and parsley thrive in your garden? If they do, it may be the Little People do also!  Who are the Little People? Where do they come from and what are their favorite plants?  Learn the history of the Wee Folk and how to use their stories and traditions to inspire children, and adults, to love nature and all it's everyday magic! 
Herbs and the Season of Christmas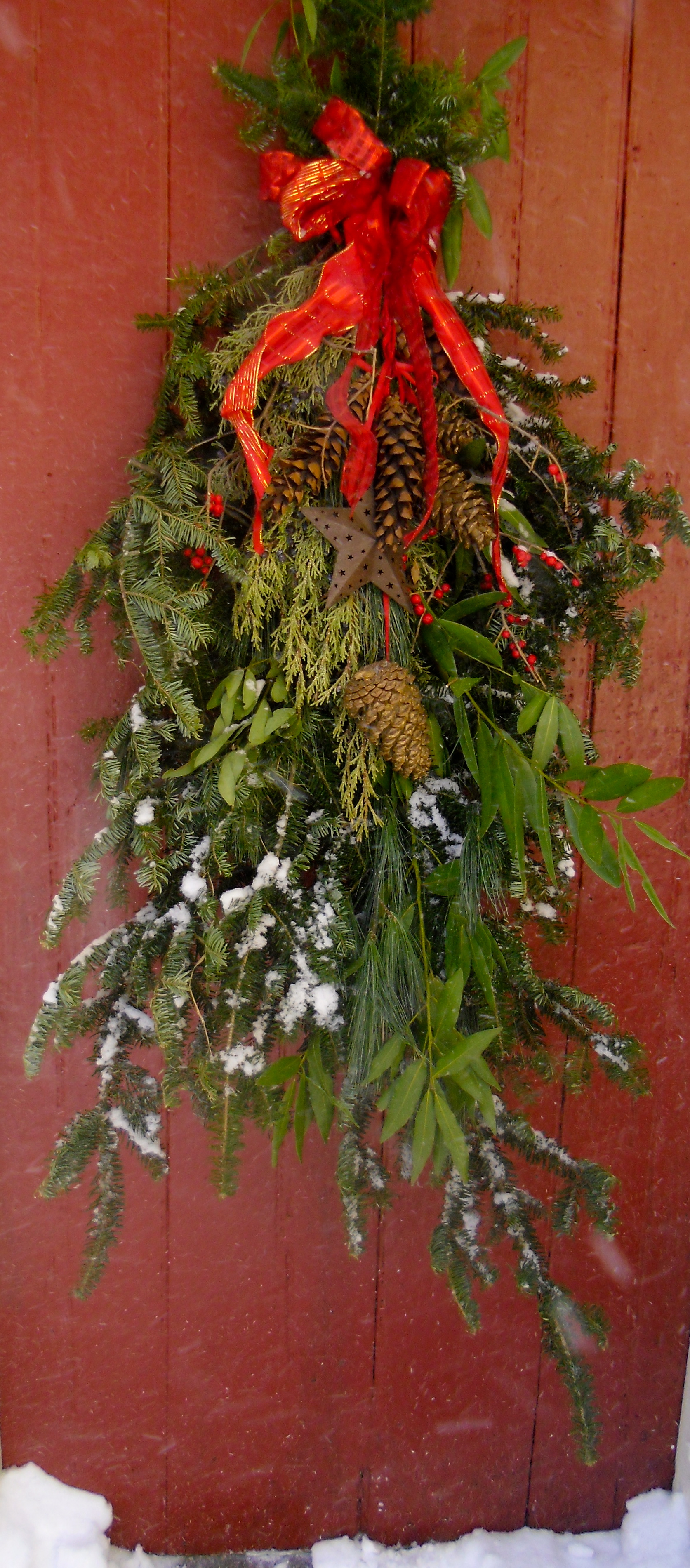 Boxwood, juniper, rosemary, ivy, pine and bay are ancient herbal Christmas greens. St. Nicholas day, St. Lucy's day, Christmas and Twelfth Night all have special herbs associated with them. Hear the stories and uses of the herbs of the Christmas season. Learn how to use them in your own holiday celebrations. Creative and delightful ways of decorating with herbal plant material are demonstrated.
Glorious Garlic and her Bodacious Cousins, the Alliums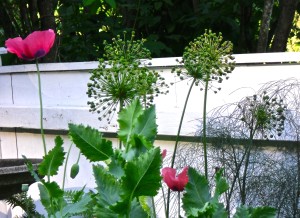 Learn how to grow and use garlic, queen of the kitchen, and her many strikingly beautiful cousins, the alliums. Fall is garlic planting time for New Englanders, as well as time to plant the bulbs of decorative alliums. Critter resistant and easy to grow, alliums boast lovely, long lasting flowers that add interest and color to the garden from May to September and, in some cases, can be dried for winter use. Learn how to grow garlic, which alliums to choose for your garden and how to use both of them in seasonal flower arranging.
Old Plants in a New Land, the History and Stories of America's First Recorded Herbal Immigrants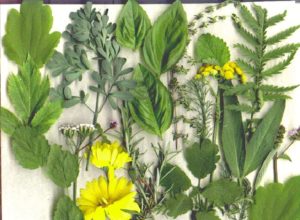 Wherever humans have wandered, whatever new territories they set out to explore, their important plants have traveled with them. Plants they knew would provide food and medicine at the end of the journey. When the English settlers arrived on the coast of Massachusetts in the early 17th century the roots and seeds of their most necessary plants came with them. Many were herbs that had been important to the health and well-being of humans for thousands of years and still are widely used today. Learn the stories of those herbs: their earliest recorded use, 17th century New England use and how they are used today. How to find and use primary and secondary sources of herbal uses will also be discussed.
Herbal Weddings: Old Traditions, Modern Uses
An herbal wedding is the essence of romance! The perfumed air, the delightful colors and the ancient symbolism of the plants blend to create a truly magical day. The program includes the stories and traditions of wedding herbs and the language of flowers, cultural directions for growing the herbs, garden design suggestions and how to use herbs and herbal flowers creatively in wedding flowers, food and drink.
Beginning Your Herb Garden
Interested in growing culinary herbs but aren't sure where to start? Gather up your questions and seed catalogs and come learn all you need to know to grow herbs successfully. We will sniff, taste and discuss common and uncommon culinary herbs. Learn how and where to grow them, how to use them fresh from the garden all summer long and when and how to preserve them for winter cooking. The class handouts include growing tips and delicious recipes.
Developing Theme Gardens
Whether you garden in beds, borders, pots or boxes, themes are lots of fun to play with. Do you love Christmas? Then design a little Christmas garden. Planning a wedding or special anniversary celebration? Create a tussie-mussie garden for the occasion. Love pizza? Cook up a pizza garden. Want to invite the fairies to come and play? Grow their favorite plants and they just might move in! Like beautiful meals? Plan a garden of edible flowers. Theme gardens are based on historical uses of plants. Down through the centuries certain plants have become associated with certain events. Learn about the language of flowers, the herbs of Christmas, the wee peoples favorite plants and the art of designing fragrant, flavorful storytelling gardens for children and the young at heart. Handouts include plant suggestions for theme gardens and a book list.
Halloween's Magical Herbs
Halloween, our scariest of all holidays, once marked the change of seasons. Change brings uncertainty and uncertainty breeds fear. Long ago the magical powers of many of our most common culinary and garden herbs where called upon to aid the transition from one season to another. Hear the ancient stories and learn the legendary powers of the herbs of Halloween.
Plants of Magic, Plants of Life "Halloween and Thanksgiving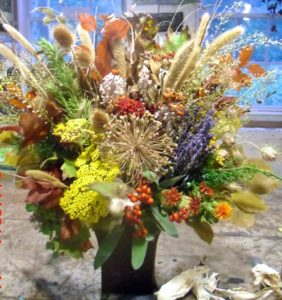 Autumn brings two holidays we all look forward to, Halloween and Thanksgiving. While there seems to be little to connect the two days, they actually share the same ancient history. Both celebrations once marked the harvest and the end of the growing season. Plants, especially herbs, have always played a big role in the observance of both holidays. Halloweens' herbs are full of magic and mystery; Thanksgivings' plants are associated with sustaining life. Learn the plants , their historical uses and how to use them creatively and decoratively in your own celebrations.
Flower Arranging Plain and Simple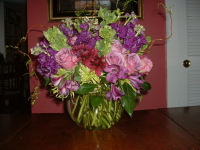 It's fun and it's simple to arrange flowers. Little arrangements of fresh flowers smiling up from the kitchen table, bathroom counter or your bedside table lift the heart. A casual bouquet in the front hall or flowers on the dining room table bring a touch of graciousness to our sped-up lives. Learn how and when to buy, pick, cut and condition flowers and greens; simple, practical mechanics and the how-to's of arranging in water and floral foam.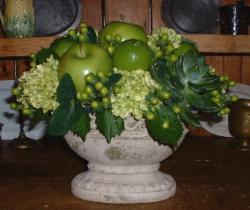 Using fresh seasonal plant material (roses, sunflowers, delphinium, mini-carnations, mums, lilies, yarrows, hydrangeas and greens) the demonstration includes hand-held arrangements, arranging in glass and arranging in floral foam. (A materials fee will be charged if the club chooses to raffle the designs at the end of the program.)
Welcome Yule!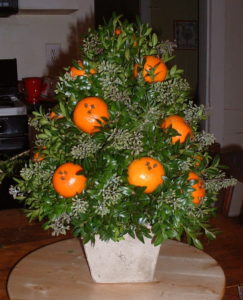 December, the darkest month of the year, is also the traditional month of festive lights and family celebrations. Home is the heart of those celebrations. Learn how to decorate your home for the sparkling month of December with fresh greens and fragrant herbs combined with fruits and vegetables, berries, cones, nuts, and lots of candles. Using boxwood, ivies, junipers, rosemary, berries, fruits and other seasonal plant material, the demonstration emphasizes the simple how-to's and mechanics of creating glowing candle rings, woodsy box and berry baskets, charming Williamsburg fruit cones, classic topiaries, festive table garlands, decorated votive holders and fresh Christmas potpourri.